RESTAURANT
Hand-picked ingredients unique to the Japanese town of Ogaki
We serve hand-picked local
and colorful ingredients.
Please enjoy the cuisines unique to Ogaki.
Restaurant Introduction
RESTAURANT
Japanese Cuisine, Ajisai
Spend relaxing and luxurious moments in a calm, modern Japanese space.We welcome our guests with heartfelt hospitality for various purposes from family and friend get-togethers to special occasions with your loved ones as well as for celebrations and condolences.
Our chef puts his heart and soul into making the most out of the natural flavors of hand-picked local ingredients.
Please enjoy colorful and seasonal flavors that help you sense the four seasons of Japan.
Hours
Lunch 11:00 a.m. - 2:00 p.m. (L.O 1:30 p.m.)
Dinner 5:00 p.m. - 9:00 p.m. (L.O. 8:30 p.m.)
Number of Seats
48 seats (table seats/private rooms/low table with sunken leg space)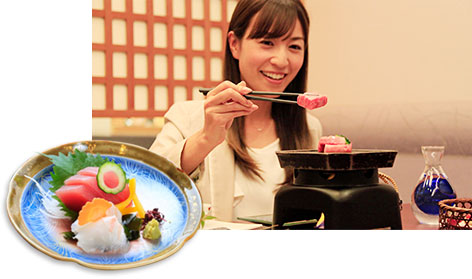 Hand-picked Ingredients
Hand-picked Gifu rice,
Hatsushimo

The name of the rice representing Gifu called Hatsushimo derives from its harvesting season. It is harvested during the first frost of the year—hatsushimo in Japanese. It is also called the Phantom Rice because it is rarely cultivated outside of Gifu. It has just the right amount of stickiness and sweetness. The large and filling grains keep your palate interested even if you eat it every day.

Grown in Gifu prefecture
—a Japanese wagyu brand, Hida Beef

One of the best parts of traveling is to eat foods that are not available anywhere else. Please enjoy dishes made using sweet, soft, and juicy Hida beef.

Local sake
representing the city of water, Ogaki

Please enjoy your time in luxury, savoring local sake made using excellent Ogaki water together with dishes made of hand-picked local ingredients.
LUNCH
We serve popular and cheap meals, sushi, and tempura only available for lunch. Please enjoy them to your heart's content.
Sushi Tempura Meal

A meal mainly consisting of sushi topped with fresh seafood and sizzling freshly-fried tempura.

Seasonal Kaiseki Meal

A chef's recommendation and the most popular seafood meal on the menu, inspired by the four seasons and is only available during lunchtime. Please enjoy the seasonal flavors to your content.
DINNER
Please enjoy the charm of seasonal and local dishes made using a local ingredient that is not available anywhere else.
Small Minokojidori Chicken
Sukiyaki Pot Set

We made sukiyaki using Gifu's local chicken and vegetables. Please enjoy the texture and flavor of the meat.

¥1,500 + tax.(Hotel Dinner)

Grilled Hida Beef
with Hoba Miso Kaiseki

A local dish where a grade A5 Hida beef is grilled with Hoba miso containing perilla has been turned into a keiseki meal. It is a luxurious dish with a full-bodied aroma that goes extremely well with rice.

¥5,000 + tax.

Stone-grilled Hida Beef
Steak Kaiseki

The chef's proud kaiseki for the diners to enjoy Hida beef to their fullest. Please enjoy the beef, cooked to your liking served on a sizzling stone plate.

¥6,000 + tax.
---
RESTAURANT
Restaurant Lavanda
A Freshly-cooked Healthy
Breakfast Buffet
We aim to serve a healthy, homemade breakfast menu that pleases our guests by using safe and local ingredients.
A must have breakfast dish at hotels is eggs which we prepare to order. Diners can enjoy a freshly-cooked, silky, and melt-in-your-mouth omelets and scrambled eggs.
Restaurant Information
Breakfast Time

Please enjoy a diverse breakfast menu.

Hours
7:00 a.m. - 9:30 a.m. (Weekends: 10:00 a.m.)
Price
Adult: ¥1500, Child: ¥750,
Non-school Age Child: Free
---
Breakfast Recommendations
Freshly cooked dishes to order

Scrambled eggs, omelets, and Yoro pork shabu shabu. We serve them to order to deliver them fresh to your table.

Mother's cooking, Obanzai

Obanzai with gentle flavors, made with seasonal ingredients. Please enjoy the excellence in the flavors and presentation of ingredients.

Healthy ingredients
great for the body

An original homemade breakfast made using hand-picked local ingredients, designed to be safe, reassuring, and healthy.

Free coffee to go

There are takeaway coffee cups in the breakfast hall for the diners to enjoy their coffee in their rooms. Please feel free to take one back after your breakfast.