Quintessa Hotel is located in the center of Kyushu.
With the aim of creating the best time during your journey,
we also prepared books, magazines, and mangas in our ''MANGA Library'' in the lobby.
It takes only two minutes to walk from Fukuoka City Subway station "Tenjin" exit west 1.
The location of the Quintessa Hotel is the best for not only business trips but also for sightseeing trips.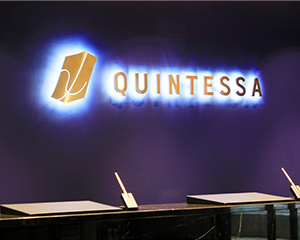 International
Our hotel accommodates international guests with native language communication.
We ensure a comfortable stay for our international guests by offering the 'KOTOBAL'*1 service. This service, accessible via a single tablet, provides foreign language interpretation and voice-to-text communication in up to 31 languages. Please enjoy your stay with us with confidence.
*1 'KOTOBAL' is a multilingual translation system provided by Konica Minolta, Inc.