Restaurant

Friendly Service and a Buffet Brimming with Originality
energetic & FResh
Brimming with the head chef's distinctive originality,
this diverse buffet features plenty of vegetables and hearty meat dishes.
We welcome customers with a friendly and familiar service that embodies the spirit of the restaurant name, Aimable.
Opening Hours
Breakfast 7:00 a.m. - 10:00 a.m. /
Coffee & Tea 10:00 a.m. - 5:00 p.m.
Lunch 11:30 a.m. - 2:00 p.m. (Last Order 1:30 p.m.)(Fri / Sat / Sun / Holiday)
*Bar service is closed from February 29, 2020.
Breakfast
7:00 a.m. - 10:00 a.m.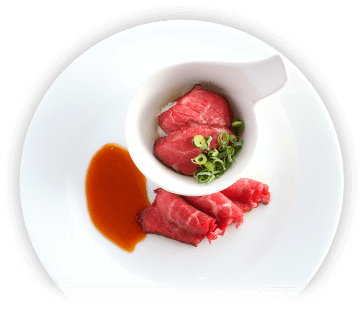 A breakfast buffet featuring over 80 dishes
made from carefully selected ingredients.
Our breakfast buffet features a lineup of over 80 carefully selected dishes
that show the head chef's commitment to ingredients,
preparation methods, seasonality, and sourcing.
With easy-to-eat portion sizes as well as colorful arrangements and tableware,
these dishes are delight to your eyes as well as your taste buds.
Enjoy SBF (Super Breakfast), a breakfast designed to charge your vitality.
| | |
| --- | --- |
| Price | Adults 2,500 yen / Children (Under 12 years) 1,750 yen / Preschoolers (4-6) 800 yen |
A Hearty Breakfast! Meat Dishes with Generous Portions
Meat
Even for breakfast, we serve a variety of rich meat dishes, including roast beef rice bowls, baked rotisserie chicken, pork belly confit, and Osaka's soul food doteyaki, or a doteyaki-style stewed beef sinew, wrapped in pie crust. Whet your appetite with an array of beautiful hors-d'oeuvres that will delight your eyes and your taste buds, and a menu so luxurious that you will not believe it is breakfast.
9 different kinds of Omelet
Omelette
We offer a diverse range of omelets, from standard flavors (ham, tomato, onions, mushrooms, etc.) to more unique types (Osaka-style such as takoyaki and kitsune udon). Choose your favorite toppings and watch these fluffy omelets be made right before your eyes.
Enjoy "Croiffles" with various toppings
Croufre
Croufre are waffles made with croissant dough. The crispy, airy texture and buttery scent really whet the appetite. Enjoy them together with various topping selections.
12 kinds of crudités made with a generous amount of vegetables
Crudité
We always have more than 10 different kinds of raw vegetables served with dressings. Enjoy a colorful arrangement of your favorite vegetables alongside a variety of rich meats.
Authentic sweets that make you feel the joy of travel
Sweets
Choose desserts to start the joy of travel in the morning. We offer a variety of sweets, delightful desserts made by our patissier.
Muslim Friendly menu
Muslim
Aimable Wine & Dining in Quintessa Hotel Osaka Bay 1st floor is now providing Muslim Friendly breakfast menu.
| | |
| --- | --- |
| Restaurant name | Wine & Dining Aimable (1st floor) |
| Open | 7:00~10:00 |
| Phone number | 06-6613-7007 |
| Price | Adult \2500 Child (elementary school) \1750 infant \800 |
| Note | Disposable cups and cutlery are available. |
| Reference Menu | Gazpacho, Grilled fish, Rotisserie chicken and chili beans, Crispy fry fish and couscous, Tuna with stir-fried vegetables, etc..(about 10 menus) |
Lunch
11:30 a.m. - 2:00 p.m. (Fri / Sat / Sun / Holiday)

A cost-effective buffet specialized with 60 dishes.
Please enjoy all kinds of colorful and hearty dishes with mouth-watering appearance and easy-to-eat portions.
| | |
| --- | --- |
| Price | Adults 2,000 yen / Children (Under 12 years) 1,400 yen / Preschoolers (4-6) 500 yen |
Cafe & Lounge
10:00 a.m. - 5:00 p.m.

Cafe time lets you enjoy coffee and cake as a snack. Feel free to stop by when you feel like a short break.
Restaurant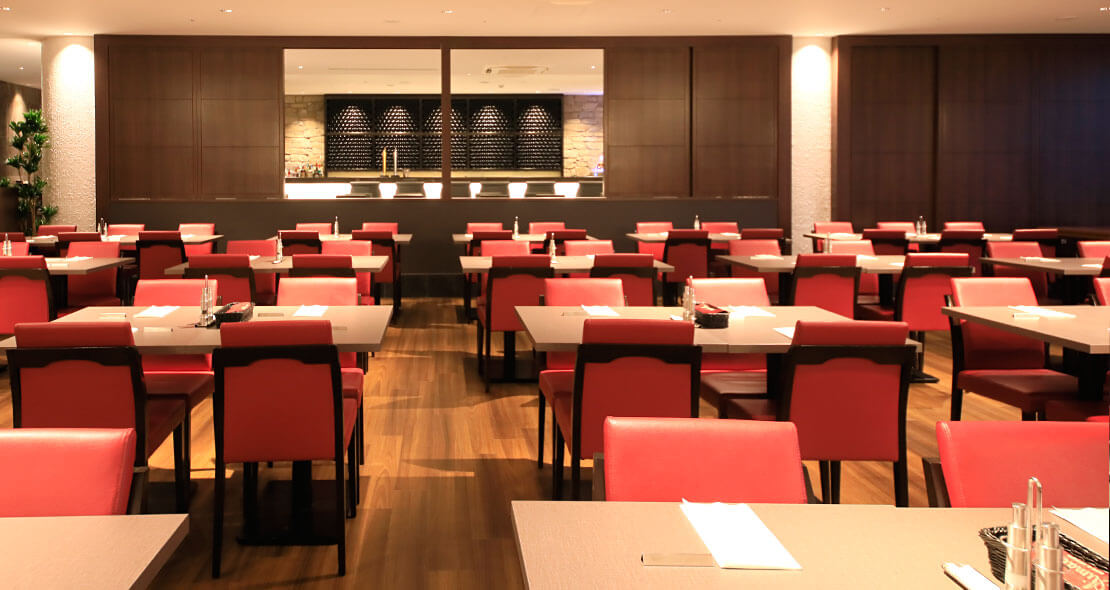 The chic interior design makes you feel comfortable and get unwound, day or night.
Forget about the hustle and bustle of daily life as you leisurely enjoy your food.