5 minutes on foot from Susukino Station.
A boutique hotel that exudes luxury and tranquility
An elegant design featuring an open white space accented with green welcomes our guests.
Indulge in our luxurious spa to soothe your everyday fatigue and discover a time of comfort and relaxation.
Our hotel is ideal for private stays, couples, girls' trips, family vacations, and business trips.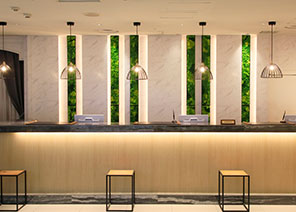 International
Staff members are available to assist international guests as well.
To ensure a comfortable stay for international guests, we have English and Chinese-speaking staff members on hand. Rest assured that we will help ensure a pleasant stay.
*English/Chinese-speaking staff may be unavailable.